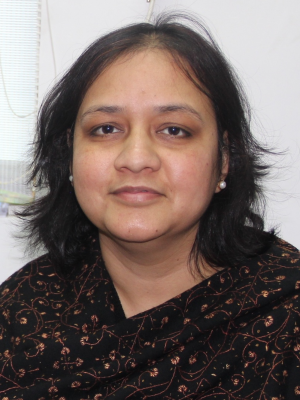 Professor Amita Gupta is the current director of CIIDRET. 
Dr. Amita Gupta joined University of Delhi as faculty member in 2006 and is Professor at the Department of Biochemistry at University of Delhi South Campus.  She had completed her Masters in Biochemistry from Delhi University and was felicitated with the University Gold Medal.  Her doctoral work was at the Department of Biochemistry, University of Delhi South Campus.
Dr. Gupta has carried out seminal research on infectious diseases that has led to numerous international publications and patents. Dr. Gupta has been felicitated with several national and international awards including "Visitor's Award for Innovation, 2015" for development of TB Confirm, conferred by The Hon'ble President of India, Innovative Young Biotechnologist Award of Department of Biotechnology, Ministry of Science and Technology, Govt. of India, Indian National Science Academy (INSA) Young Scientist Medal, Biotech Product and Process Development and Commercialization Award – 2019, Shakuntala Amir Chand Award of Indian Council of Medical Research, Prof. B. K. Bachhawat Memorial Young Scientist award of The National Academy of Sciences India, NRDC award, Dr. D. L. Srivastava Award by Society of Biological Chemists (India), and Young Scientist Award by Indian Science Congress Association.  She has also received international awards including WIPO Gold Medal for "Best Invention of the Year 2004" by World Intellectual Property Organization, Geneva and "Outstanding Young Scientist Prize" by International Business Communications, USA.
As a Core member of CIIDRET since its inception in 2015, Prof. Gupta has been executing the training activities at the center.