September 2022, Dr. Vijay Chaudhary felicitated with the Lifetime Achievement Award by the Association of Microbiologists of India.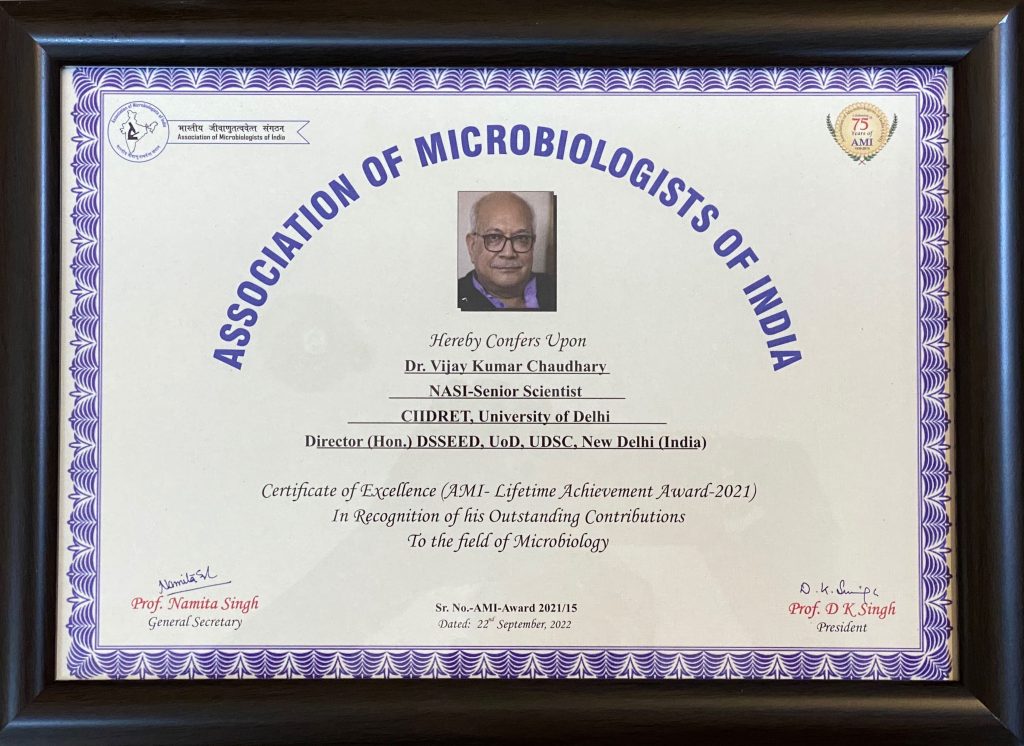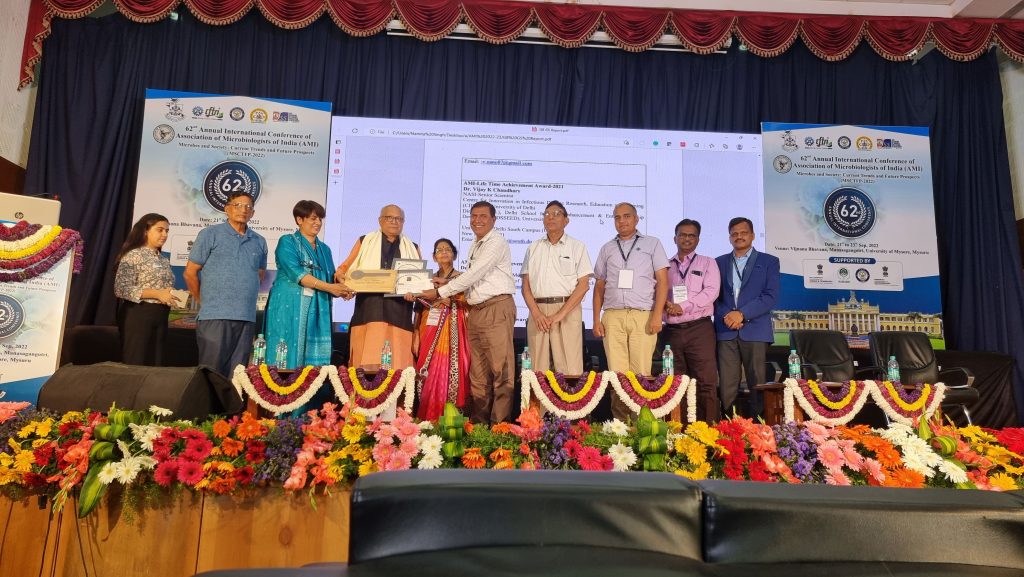 7 June 2022, Here for Science! South Campus Cements Place As Research Hub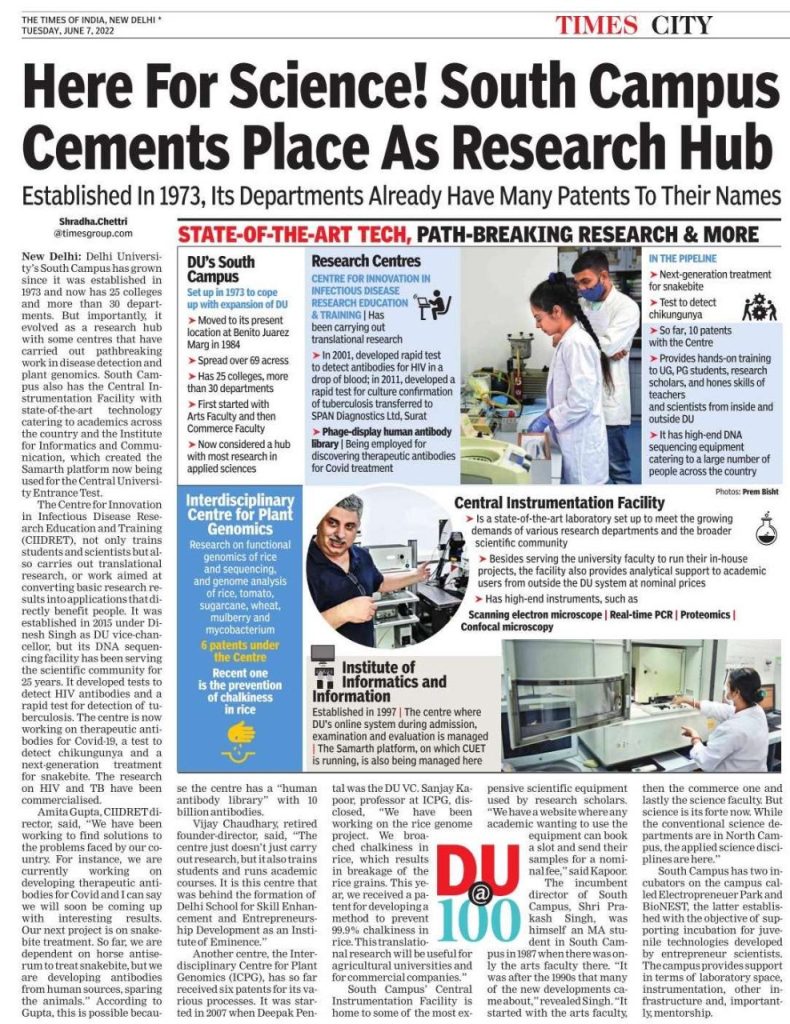 21 March 2022. A successful training program conducted by CIIDRET and DSSEED. Students delighted.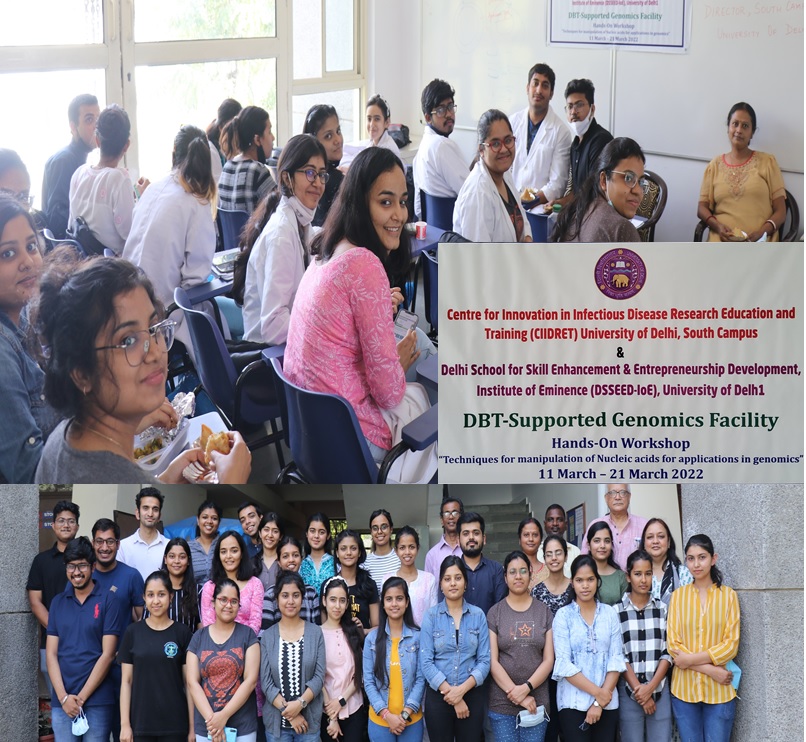 CIIDRET, in collaboration with DSSEED, DU held a 10-day training program for undergraduate students from 11 March to 21 March 2022, that ended with a felicitation and farewell for trainees. The aim of the training was to give students a "hands-on" experience of various techniques of Recombinant DNA technology. The training program was carried out by the "DBT-Supported Genomics Facility". The title of the training was "Techniques for manipulation of nucleic acids for application in Genomics". Students from various colleges participated with a refundable fee of Rs. 2000/- and completed the training. As per the feedback forms submitted by students at the end of the training, the students learned many techniques with hands-on experience. They were taught principles of various experiments, motivated, counselled and inspired by Prof. V. K. Chaudhary and Prof. A. Gupta. The training was conducted by staff at CIIDRET.
The Valedictory Function was graced by Prof Balram Pani, Dean of Colleges, University of Delhi, Prof. Mridula Gupta, Joint Dean Students Welfare, Prof. V. K. Chaudhary, Prof A. Gupta, Dr. C M Negi and others.
The students and staff were given souvenirs. The trainees, trainers and faculties were delighted at the end of this successful training session.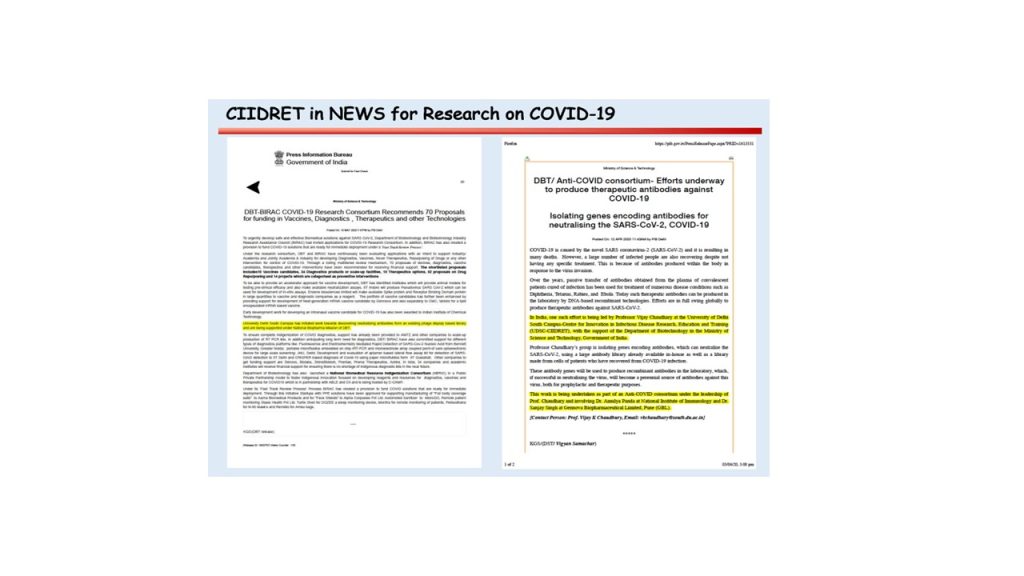 28 February 2022, Prof. Amita Gupta delivered an inspiring lecture (online mode) to the fraternity of Miranda House, DU on the Topic: "NEVA – A Technology for rapid diagnostics".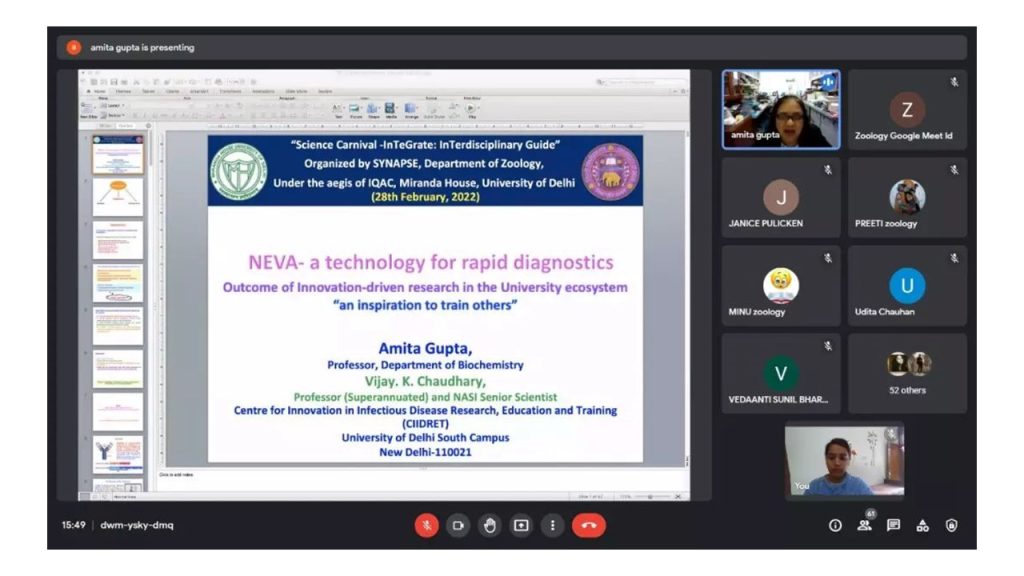 Prof. Amita Gupta delivered a lecture on "NEVA – A Technology for rapid diagnostics" and interacted with curious students and faculties at "Science Carnival-InTeGrate: InTerdisciplinary Guide" online symposium organized by SYNAPSE, Department of Zoology, Miranda House, University of Delhi.
Prof. Gupta talked about the NEVA-HIV kit. The kit uses engineered anti-RBC antibodies fused with HIV epitopes that allowed point of care testing of HIV-AIDS. Students from Miranda House college interacted with Prof. Gupta and were left inspired by the innovation, research and hard work that went into the development and making of this commercialized kit.
18 December 2021, Prof. Vijay K Chaudhary's lecture inspired scientists, students and faculties for innovation in Antibody Technology of various universities and colleges in SBCI 2021: 91th Annual Meeting.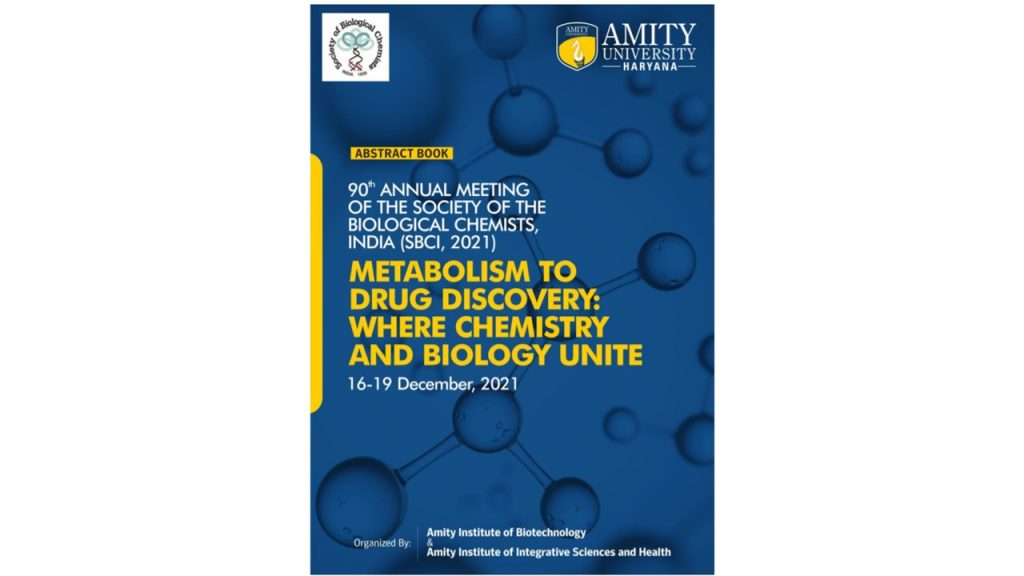 Prof. Vijay K Chaudhary delivered a lecture in the Society of Biological Chemists, India 2021 online symposium on the topic "Phage-Displayed Human Antibody Library – A resource for discovery of next-generation antibody therapeutics". The Symposium was hosted by Amity University, Gurgaon.
Recombinant therapeutic antibodies have become a major class of biologics worldwide with their current global market at more than USD 100 billion. There is a growing need for improved (Biobetters) and new antibodies against existing and novel targets. Recently, Human Antibody cocktails have been successfully employed for the treatment of COVID-19. The advent of recombinant DNA technology and understanding of antibody diversity, PCR-based ability to clone antibody-encoding genes and technologies to produce antibodies in cell culture using hyper expression vectors and cell lines, has enabled researchers to produce human antibodies for therapeutic purposes.
Latest publication by Researchers at CIIDRET, UDSC and THSTI.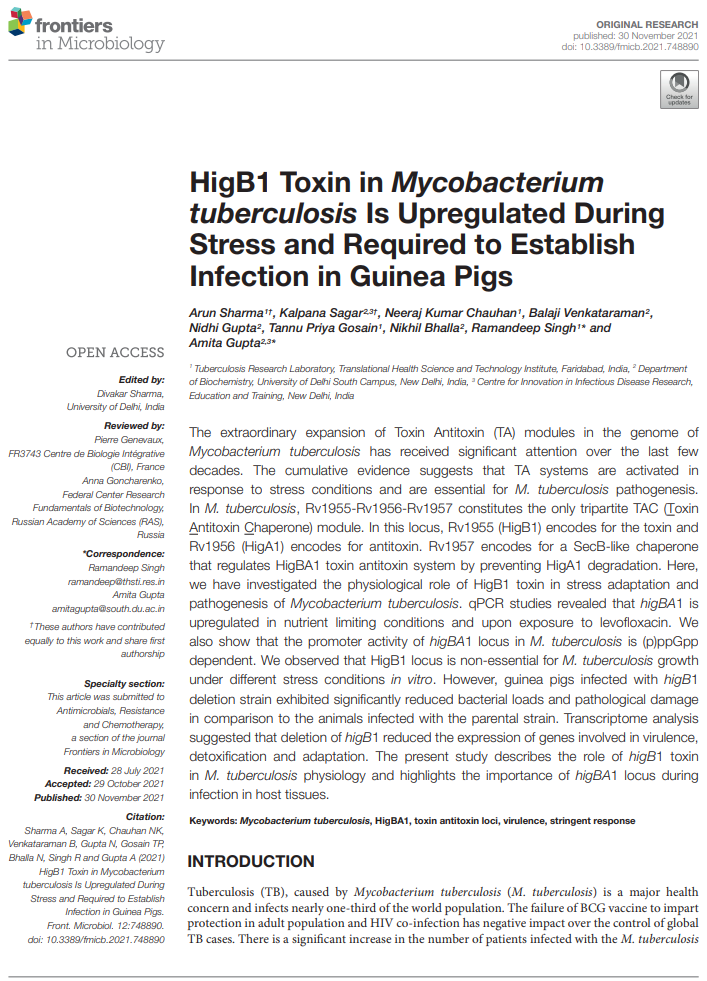 The extraordinary expansion of Toxin Antitoxin (TA) modules in the genome of Mycobacterium tuberculosis has received significant attention over the last few decades. The cumulative evidence suggests that TA systems are activated in response to stress conditions and are essential for M. tuberculosis pathogenesis. In M. tuberculosis, Rv1955-Rv1956-Rv1957 constitutes the only tripartite TAC (Toxin Antitoxin Chaperone) module. In this locus, Rv1955 (HigB1) encodes for the toxin and Rv1956 (HigA1) encodes for antitoxin. Rv1957 encodes for a SecB-like chaperone that regulates HigBA1 toxin antitoxin system by preventing HigA1 degradation. Here, we have investigated the physiological role of HigB1 toxin in stress adaptation and pathogenesis of Mycobacterium tuberculosis. qPCR studies revealed that higBA1 is upregulated in nutrient limiting conditions and upon exposure to levofloxacin. We also show that the promoter activity of higBA1 locus in M. tuberculosis is (p)ppGpp dependent. We observed that HigB1 locus is non-essential for M. tuberculosis growth under different stress conditions in vitro. However, guinea pigs infected with higB1 deletion strain exhibited significantly reduced bacterial loads and pathological damage in comparison to the animals infected with the parental strain. Transcriptome analysis suggested that deletion of higB1 reduced the expression of genes involved in virulence, detoxification and adaptation. The present study describes the role of higB1 toxin in M. tuberculosis physiology and highlights the importance of higBA1 locus during infection in host tissues.