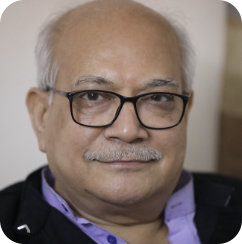 Professor Vijay Chaudhary is the Founder and First Director of CIIDRET.  Being involved in imparting high-quality education for more than 25 years, and with vast experience in governance, industry mentoring and successful execution of large research projects, Professor Chaudhary envisaged a center that would do state-of-the-art research and impart experiential learning to one and all.  To further industry-academia interaction and impart training for development of a critical mass of human resource in Biotechnology, he proposed the establishment of CIIDRET at University of Delhi.  Professor Vijay Chaudhary was the Director of CIIDRET between October 2015 and August 2020.  Under his leadership, the center grew brick-by-brick.  He garnered large research funding and developed the state-of-the-art research infrastructure at the center.
Professor Chaudhary's career is a one of its kind examples of innovation, creativity and entrepreneurship.
At a young age of 26 (in 1981), he established the Clinical Biochemistry Department at Escorts Medical Center (Now Fortis), Faridabad.
At NIH, during 1985-90, his path-breaking research on recombinant immunotoxin for targeted therapy of cancer and AIDS won him coveted NIH Directors' Award in 1991. His pioneering basic work on immunotoxin-based therapy has culminated in the first US FDA-approved drug 'Lumoxiti' in 2018 for patients with hairy cell leukemia.
At Delhi University, he served as Head of Department of Biochemistry for 3 terms of three years each. He designed and supervised the coming up of Life Sciences Bachawat Block (Biochemistry).  He has been deeply involved in several policy-making committees of Delhi University.
For his translational work on diagnostics and therapeutics, he
has been felicitated with several awards including Biotech Product and Process Development and Commercialization Award of Department of Biotechnology, Government of India three times for three different technologies in 2004, 2014 and 2019, Visitor's Award for Innovation conferred by the President of India in 2015, National Research Development Corporation award (NRDC, DSIR, Ministry of Science & Technology, Government of India) and WIPO (World Intellectual Property Organization, Geneva) Gold Medal for "Best Invention of the Year 2004".
Professor Chaudhary has more than 100 publications in high-impact international journals and more than 20 US and several Indian patents. He is a Fellow of National Academy of Sciences of India (NASI). He has
contributed as a Chairman/Co-Chairman/member of scientific/IPR & Tech Transfer committees of DBT, ICMR, BIRAC, IKP-knowledge Park etc., and serves/has served as consultant/Advisor to many Biopharmaceutical companies.
Professor Chaudhary has continued his association with the Center and the University of Delhi.  He is NASI-Senior Scientist at CIIDRET and Director (Hon.), Delhi School for Skill Enhancement & Entrepreneurship Development (DSSEED) established under the IoE at University of Delhi.  He is consultant to Indian Bio-pharam acompanies and guides the research and training activities at CIIDRET.