Sanger sequencing, also known as chain-termination sequencing or dideoxy sequencing, has been the driving force of DNA sequencing since its inception in the 1970s and is still considered a gold standard method that relies on the detection of tagged chain-terminating nucleotides inserted by a DNA polymerase during iso-thermal template replication.
Routine validation of cloning studies, PCR fragments, Functional and comparative genomics, evolutionary genetics, and complicated disease research have all benefited from the technique.
DBT supported Genomic DNA sequencing facility that started in 1997 houses 16-,96- capillary Sanger sequencers, AB 9700 PCR machines. This national facility houses state of the art instrumentation and serves national R&D and academic establishments having DSIR authorization and Customs exemption such as colleges, public labs, government foundations, and not-for-benefits associations.
More than 100 users across India are exploiting the services offered by this facility. Users from distant parts of the country send their samples through the mail and others give their samples by hand in the form of gDNA, live E. coli cultures, plasmids, or PCR products. The trained and experienced staff processes and analyzes the samples for their integrity and quality of samples by gel electrophoreses. After labeling with fluorescently labeled chain-terminating dideoxy-nucleotides in iso-thermal replication reaction, the samples are run through a capillary system that reads the fluorescence and gives the output in the form of an electropherogram.  The Machines can read up to 16-/96- samples simultaneously, increasing throughput manifold and making the workflow time saving and economical.
The facility has staff with expertise in primer walking to sequence long DNA sequences and complete plasmids.
Institutions from all over the country have availed services from this facility.
Sample submission instructions and guidelines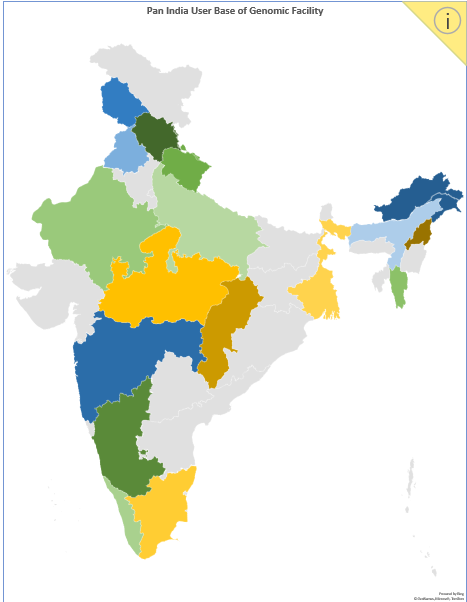 List of institutions who have used the facility services
S.No.
Institute
State
Numbers of samples
1
New Delhi
AIIMS
2
New Delhi
Department of Biochemistry, University of Delhi
3
New Delhi
Department of Botany, University of Delhi
4
New Delhi
Department of Genetics University Of Delhi
5
New Delhi
Department of Microbiology, University of Delhi
6
New Delhi
Department of Plant Molecular Biology, University of Delhi
7
New Delhi
Department of Zoology, University of Delhi
8
New Delhi
Deshbandhu Collge
9
New Delhi
ICAR-Nagtional Research Centre for Plant Biotechnology
10
New Delhi
ICGEB
11
New Delhi
IIT Delhi
12
New Delhi
Indian Agriculture Research Institute
13
New Delhi
Institute of Liver & Biliary Sciences
14
New Delhi
JNU
15
New Delhi
National Institue of Immunology
16
New Delhi
Ramjas College
17
New Delhi
Safdarjung Hospital
18
New Delhi
Sir Ganga Ram Hospital
19
New Delhi
Sri Venkateshwara College
20
New Delhi
The Energy Resource Institute
21
West Bengal
Bose Institute, Kolkata
22
West Bengal
IVRI Kolkata
23
West Bengal
National Institue of Technology, Durgapur
24
West Bengal
West Bengal University
25
Uttar Pradesh
Amity University , Noida
26
Uttar Pradesh
Central Drug Research Institute, Lucknow
27
Uttar Pradesh
Central Food Technology Research Institute, Lucknow
28
Uttar Pradesh
Indian Vegitable Research Institute, Varanasi
29
Uttar Pradesh
IVRI Bareilly
30
Uttar Pradesh
IVRI Varanasi
31
Uttar Pradesh
Jaypee Institute of Technology, Noida
32
Uttar Pradesh
National Beuro of Fish Genetic Resources, Lucknow
33
Uttar Pradesh
National Botanical Research Institute, Lucknow
34
Uttar Pradesh
SG Post Graduate Institute of Medical Science, Lucknow
35
Punjab
GADVASU Ludhiana
36
Punjab
IMTECH Chandigarh
37
Punjab
Institute of Microbial Technology, Chandigarh
38
Punjab
Patiala University
39
Punjab
SG Post Graduate Institute of Medical Science, Chandigarh
40
Punjab
Thapar University, Patiala
41
Hariyana
Maharshi Dayanand University, Rohtak
42
Hariyana
National Brain Research Institute, Hisar
43
Hariyana
National Research Centre for Camel, Hisar
44
Hariyana
National Research Centre for Equine, Hisar
45
Hariyana
Reginall Centre for Biotechnology, Faridabad
46
Rajasthan
BITS Pilani
47
Rajasthan
Cental Arid Zone Research Institute, Bikaner
48
Rajasthan
National Research Centre for Camel, Bikaner
49
Rajasthan
Rajasthan University of Venterinary & Animal Sciences, Bikaner
50
Maharastra
National Centre for Cell Sciences, Pune
51
Maharastra
National Environmental Engineering Research Institute, Pune
52
Maharastra
Serum Institute of India, Pune
53
Assam
IIT Guwahati
54
Oddisa
IIT Bhubneshwar
55
Uttarakhand
G B Pant Agriculture Univrsity & Technology, Pantnagar
56
Uttarakhand
IVRI Mukteshwara
57
Madhya Pradesh
IVRI Bhopal
58
Himachal Pradesh
National Research Centre for Mushroom, Palampur
59
Arunachal Pradesh
National Research Centre for Mithun, Dirang
60
Nagaland
National Research Centre for Yalk
61
Mizoram
Central Agriculture University
62
Mizoram
Mizoram University
63
Tamilnadu
Sugarcane Breeding Institute, Coimbatore
64
Karnataka
IISc Bangalore
65
Jammu
Jammu University
66
Chhattisgarh
Central Institue of Biotic Stress Management, Raipur
67
Kerala
Rajiv Gandhi Centre for Biotechnology, Trivandrum
Sample submission forms and pricing details
Regular DNA Sequencing Services
Service code
Item
Total cost per sample
A1
Sequencing of Cloned DNA and PCR products up to 650* bases using standard primers (T7, T3, SP6, M13R,M13F) or with user supplied primers.
Rs. 650/-
B1
Up to 650 bases*: (primer will be synthesized by the facility)
Rs. 1650/-
C0
Upto 1.0 kb single stranded sequencing
Rs. 1800/-
Single Stranded Primer Walking Sequencing
Service code
Item
Total cost per sample
C1
Upto 1.5 kb single stranded sequencing
Rs. 2950/-
C2
Upto 2.0 kb single stranded sequencing
Rs. 4600/-
C3
Upto 2.4 kb single stranded sequencing
Rs. 5600/-
C4
Upto 3.0 kb single stranded sequencing
Rs. 7900/-
C5
Upto 3.6 kb single stranded sequencing
Rs. 8900/-
C6
Upto 4.2 kb single stranded sequencing
Rs. 11200/-
C7
Upto 4.8 kb single stranded sequencing
Rs. 13500/-
Double Stranded Primer Walking Sequencing
Service code
Item
Total cost per sample
D1
Upto 1.0 kb double stranded sequencing
Rs. 4600/-
D2
Upto 1.5 kb double stranded sequencing
Rs. 5900/-
D3
Upto 2.0 kb double stranded sequencing
Rs. 11200/-
D4
Upto 2.5 kb double stranded sequencing
Rs. 14500/-
D5
Upto 3.0 kb double stranded sequencing
Rs. 17800/-
D6
Upto 3.5 kb double stranded sequencing
Rs. 19450/-
D7
Upto 4.0 kb double stranded sequencing
Rs. 21100/-